---
Craftsmanship - Glenview Doors
For centuries, natural wood has been used to create a perfect combination of beauty and durability. Each piece of wood is truly unique and naturally becomes the best choice for a sophisticated and individual look. Individual wood types have its own distinct personality and feel. Wood is also a practical choice. It is known for superb insulation qualities. When properly finished and maintained, wood is exceptionally durable and resistant to time and elements. Moreover, wood is a naturally renewable resource.
---
---
Front and Exterior wood doors made with Euro Technology
Euro Entry Doors are ideal for homes with a variety of architectural styles. Euro doors capture the beauty and elegance of solid wood front doors, but with greater performance. These striking entry doors combine design-forward aesthetics with advanced technology that offers remarkable insulation, durability, and stability. Moreover, the advanced sandwich construction technique makes these designs a viable and lasting option for front doors.
---
Weather Resistance
Euro Technology doors hold up much better in harsh and changing weather conditions, particularly in buildings with little to no overhang. Extraordinarily resistant to common problems associated with typical wood doors, Euro Entry Doors won't warp, crack, or split over time. These doors need far less maintenance and will look as good as day one for years to come.
Euro Technology Entry Door Construction Method
We engineer our Euro Entry Doors with an advanced composite construction technique that offers durability, stability, and superior insulation. The door sandwich design includes stiles and rails made from solid European woods, a revolutionary insulation core, and real wood veneers in Mahogany, American Walnut, and other fine woods. Thus, the result is a perfectly engineered front door that maintains the elegant look and feel of solid wood. Meanwhile, its unmatched thermal performance and incredible longevity make it as practical as it is beautiful.
Artisan Craftsmanship & Furniture Grade Finishing
The European construction method offers the same high-end, furniture grade look of a solid wood door while offering exceptional thermal performance and overall product durability. All Glenview Doors doors are pre-finished with the finest water-based exterior grade products from Europe. Our furniture grade finishing is a precise multi-step process that ensures unsurpassed quality, unmatched beauty, and unbeatable resistance to weathering.
---
---
---
Modern Euro Technology Entry Doors
Modern Euro Technology
The door sandwich design includes stiles and rails made from solid European wood, thermal insulation board - Styrodur C and layers of aluminum sheets and plywood in various wood veneers including Mahogany wood. 

This design provides excellent thermal performance and overall product durability.
---
Modern Euro Collection
Our Modern collection delicately balances form and fashion to create a truly sleek appealing front entry way. Encompassing oversized door systems, flush doors, and floating paneled structures, allow us to custom craft any and all Modern styles to meet today's market demands. Crisp, narrow lines, large, uninterrupted glazed openings, and precise horizontal and vertical alignments, make these doors key elements in modern construction today. Our ability to provide custom designed units, combined with rich, solid hardwoods at affordable prices is what makes our Modern collection stand out against the competition
Modern Euro Entry Doors – Design and Customization Options
All Modern Euro Entry Doors are highly customizable; we can tailor every aspect of a door's design to suit your taste and specifications. Combine our signature technology with your signature style for a sleek modern entryway as smart as it is sophisticated.
Start with the wood of your choice and customize everything down to the shape, size, finish, texture, hardware, and detailing.  Incorporate glass panels and stainless steel inserts for an ultra-contemporary look, or stick with solid wood veneers for an organic modern vibe.
---
---
---
Traditional Euro Technology Entry Doors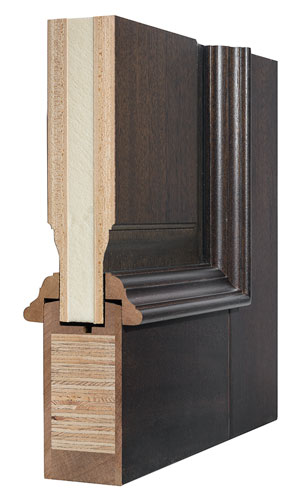 Solid Wood with Euro Technology
Stiles and rails made from solid wood pieces are finger-jointed and edge-glued, while the core of the panel is made of a rigid polystyrene. A real mahogany wood veneer completes the unit with the desired high-end look and feel of solid mahogany wood door. This Euro Technology provides excellent thermal performance, durability, and stability. With advanced Euro Technology, the highest quality materials, artisan finishing techniques, and up to twice the thickness of typical wooden entries, Glenview Doors are in a class of their own.
The Science Behind Euro Collection Doors
Euro Collection solves common problems associated with typical wooden doors. This technology delivers superior performance for all architectural styles, even with little or no overhang. Stiles and rails made from solid wood pieces are finger-jointed and edge-glued, while the core of the panel is made of a rigid polystyrene. A real wood veneer completes the unit with the desired high-end look and feel of solid wood.
Prefinished with High-End, Water-Based European Exterior Products
Glenview Doors are prefinished with high-end, water-based European exterior products ensuring unsurpassed quality and beauty. The furniture grade finishing process includes a multi-component system that offers exceptional resistance to weathering.
---
---
Custom Solid Wood Front Doors – Craftsmanship
Looking for enduring design? Solid wood front doors are a symbol of timeless luxury. Glenview Doors can tailor every aspect of a door's design to your needs and specifications. Start with the wood of your choice and customize everything down to the shape, size, style, finish, texture, hardware, and detailing. From traditional doors to modern doors, we offer the finest quality components, advanced wood engineering, and artisan craftsmanship. We build our 2-1/4" thick solid wood exterior doors to last.
High Quality Wood for the Finest Solid Wood Entry Doors
Superior design starts with the finest quality wood. We specialize in Genuine Honduran Mahogany (Swietenia Macrophylla), prized for its beauty, durability, and stability. We also offer a variety of custom wood species, including White Oak, Red Oak, American Walnut, Teak, Spanish Cedar, Douglas Fir, American Cherry, Knotty Alder, and Clear Alder.
Modern Solid Wood Engineering Delivers the Best Performing Custom Wood Doors
Regardless of the material selected, we kiln-dry and hand match all of our wood to ensure uniform color and consistent performance. Our modern solid wood front doors are designed and engineered with advanced stile and rail components. As a result, they withstand the elements and resist warping, expansion, and contraction over time.
Artisan Woodworking and Craftsmanship Executed on Mahogany, Oak, Walnut and other Hardwoods
We guarantee the integrity and stability of your exterior door, so you are free to customize the door's design in any way you wish. Our expert woodworkers are skilled at a variety of traditional and modern cutting methods, including Plain Sliced, Quarter Sliced, and Rift Cut wood. Hand carved front door panels and wrought iron decorative elements are just a few of the other customization options available – visit our Custom Front Door Gallery for inspiration. Looking for custom textures? A wire brush door finish creates a multi-dimensional wood grain. A hand-scraped door finish replicates a rustic, old-world feel.
Custom Finishes Available to Compliment Solid Wood Doors made from the Finest Mahogany
We also offer an array of custom finishes from our state-of-the-art Finishing Booth. Our European, water-based paints, stains, and lacquers are environmentally friendly. Because these finishes are also furniture-quality, they will stand the test of time.
Something for Everyone: Custom Solid Wood Doors for Homes, Condos, Townhomes, Commercial Projects, Offices, Restaurants, Churches and other Municipal Buildings
Whether you need modern doors, traditional doors, transitional doors, or anything in between, our custom solid wood front doors are exactly what you have in mind. Perfect for homes, hotels, restaurants, churches, religious centers, and high-end offices alike. We also offer fire-rated replicas of original doors for historical renovations. Our custom doors and fire-rated custom exterior doors offer lasting beauty designed to match your vision
Solid Wood Door Structure
To enhance stability even further, the core of our mahogany doors contain the same solid mahogany species. For our engineered banded stiles and rails, each stile features a solid mahogany edge band. The engineered stiles and rails are stronger then single, solid wood pieces, reducing the possibility of the door warping or splitting. Our durable 3-ply wood panels will not twist, warp, shrink or expand.
In our finished series, the panel is completely prefinished and sealed on all six sides before being installed, and as the panels are free to float between fixed edges, there is no unfinished part of the panel that may show up with time. There are no nails that hold panels in place.
---
---
SIZES AND SHAPES
The wide variety of entry systems presented on this site matches most standard rough openings. We normally make two standard door heights of 6'8" and 8'. Our highest system contains slabs of 9'. Our standard design reflects door thickness of 1-3/4" but we also make 2-1/4" thick panels. We accommodate the single slab width of up to 42".
CUSTOM DESIGN
We appreciate and welcome your door ideas. For customers who cannot find the doors they are looking for on this site, we encourage providing us with a sketch or other form of design concept, and our consultants will be happy to discuss and quote your own unique doors. Please note that lead time on most custom doors is about 12 weeks.
---
HINGE
As highest quality standard, we exclusively use our own heavy duty ball bearing patina coated brass hinge with a steel pin. The weight of one hinge is 13 oz. Architecturally proportioned, this 4" straight angle distinctive design represents consistent character.
THRESHOLD/SILL
Our thresholds are offered with extensions of up to 3". The threshold cap allows for adjustment to be made for a tight seal. Attached profile image demonstrates the matching patina color of anodized bronze threshold with our hinges.
---